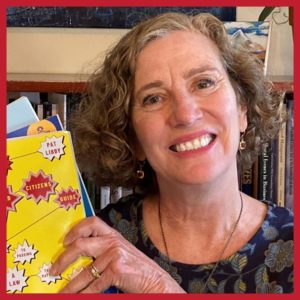 Pat Libby | Non-Profit Consultant
Pat Libby is one of the nation's leading experts on citizen lobbying campaigns. A long-time nonprofit leader, consultant, and academic Pat has made it her mission to teach people how to create change through the legislative process.
She is author of The Empowered Citizens Guide:10 Steps to Passing a Law that Matters to You, Oxford University Press 2022 and The Lobbying Strategy Handbook, second edition, Oxford University Press 2021. Written in an engaging style, both offer a "how-to" guide for citizens who are seeking a simple blueprint for learning how to take part in the legislative process. These books, and the 10-Step lobbying model around which each is constructed, were born from Pat's experience leading legislative lobbying campaigns as a nonprofit CEO. Her model has been used by many advocates with little to no previous advocacy experience to successfully pass state and local laws across the country. In fact, both publications contain stories written by  novice advocates describing how they used Pat's model to achieve their respective goals.
Pat honed her advocacy skills while serving for eight-years as President/CEO of the Massachusetts Association of Community Development Corporations (MACDC). There she led city, state, and national legislative campaigns that ultimately altered the landscape for affordable housing and community economic development activity in the state. Her tenure at MACDC transformed a financially bankrupt organization into a nationally-recognized model for state-wide CDC associations. In her final year there, she leveraged nearly $200 million in private funding for community development projects.
In addition, for 14 years until July 2015, Pat served the University of San Diego as the founding director of its Nonprofit Institute, creating nonprofit-focused graduate programs, a research center and community education programs serving hundreds of people and organizations each year. In creating the Institute, Pat realized a vision for an academic center that would interweave research, theory and practice.
A Boston native, Pat holds a graduate degree in Urban Planning from MIT and a bachelor's degree in Spanish and Sociology from Tufts University. To learn more about Pat Libby visit her website, LinkedIn or Twitter.