Tools for Building Confident Girls and Women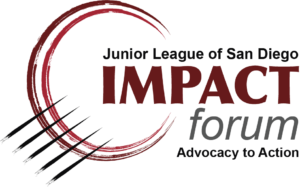 Please join us for the Junior League of San Diego's annual Impact Forum on Nov. 13, 2018. Through dynamic speakers from the private corporate sphere, a Sacramento public policy influencer, to a motivational speaker, we will explore the practical applications for Building Confident Girls and Women in light of the #MeToo and #WeSaidEnough movements. Come be a part of the change and educate yourself on strategies and tools that you can use in the workplace and beyond!
We are proud to welcome guest speakers Samantha Corbin, from Corbin and Kaiser, LLC, We Said Enough, Dawn Andrews, Director of Diversity & Inclusion for Sempra Energy, and motivational speaker, Maria Keckler, MA.
| | |
| --- | --- |
| Samantha Corbin organized the open letter on the pervasive culture of sexual harassment and assault in politics, published in the LA Times on October 17, 2017. She is the co-founder of the We Said Enough Foundation, whose mission is to eliminate bullying, harassment, and assault in all forms. Samantha serves as the organization's Executive Director, and recently oversaw the passage of Whistleblower Protections for California's legislative staff. | |
| Dawn Andrews is the Director of Diversity & Inclusion for the Sempra Energy family of companies. In this role, Ms. Andrews leads the companies' diversity and inclusion team, handles affirmative action, is responsible for EEO-1 reporting, and administers the Ethics & Compliance Helpline. | |
| Maria is a C-Level communications leader, global learning and development expert, and bestselling author of Bridge Builders: How Superb Communicators Get What They Want. Her book was recently listed in Inc. Magazine's "60 Great Business and Leadership Books All Written By Women." | |