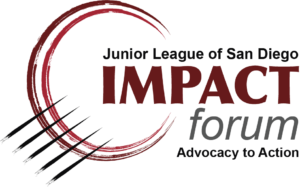 EMPOWERED: Advancing Civic Leadership in 2020 and Beyond
November 12, 2019 6:00-8:00 pm
Location: Liberty Station Conference Center, Main Hall 2600 Laning Road San Diego, California 92106
The Junior League of San Diego presents our annual Impact Forum, EMPOWERED: Advancing Civic Leadership In 2020 & Beyond. A panel of issue area experts will discuss topics such as how to navigate equal pay, maternity/paternity leave and how women can secure positions of leadership in the workplace and our community. We will address practical steps for bridging the gender leadership opportunity gap and explore how empowering women to aspire to positions of leadership strengthens the organizations that embrace it.
Panelists include:
Yolanda Clarke, CEO Powder River Industries–Army Intelligence Officer, Army Reserves, Military Spouse
Lindsey Lupo, PhD, Professor of Political Science; Chair, Department of History and Political Science; Director, Institute of Politics and Public Service, Point Loma Nazarene University
Janette Piankoff, PhD, Sempra Energy-Director of Human Resources and Organizational Development
Teresa Jacques, Partner-Major Executive Search and 2020 Women on Boards Campaign Co-Chair, San Diego
Special thanks to our community partner, Point Loma Nazarene University's The Margaret Stevenson Center for Women's Studies for helping make this event possible.