Advocacy Series: Growing a Healthy Community Starts with You!
See below for the recordings of our three-part series of events hosted by the JLSD Advocacy Committee. Learn about the challenges facing the San Diego community in the areas of Food Insecurity and Maternal Health. These two focus areas were being considered as new areas for the Junior League, so take this opportunity to familiarize yourself with the challenges in these areas and what inspires you to help! These events will provide first hand exposure to the organizations working in these areas. You can be a critical enabler to making a change in the health outcomes for our community. We look forward to hearing what moves and inspires you about these sessions!
Growing a Healthy Community Starts with You!
Thursday, January 20, 2022
View the Recording Here!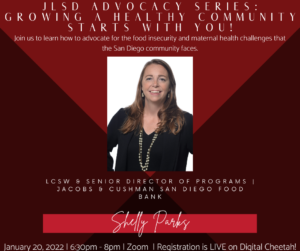 Our first session will feature Shelly Parks, Senior Director of Programs at the Jacobs & Cushman San Diego Food Bank. Shelly, originally from Minnesota, moved to San Diego to pursue her Master's in Social Work from San Diego State University. Shelly's internship resulted in a career overseeing a food distribution program. Through operating and expanding a food pantry program, Shelly honed her skills at capacity building. Taking that working experience to the Jacobs & Cushman San Diego Food Bank in 2014, Shelly excels at assisting nonprofit partners to increase capacity, operate impactful food programs, and maintain compliance with federal, state, and local policies. Shelly gained her Licensure in Clinical Social Work in 2015 and is most passionate about fighting hunger in the community – ensuring that all San Diegans have enough good, nutritious food to thrive.  Shelly Parks now oversees all the direct and indirect service programs the Food Bank operates to reach more than 550,000 people across the county each month.
We look forward to learning more about how we can best advocate for the San Diego Food Bank!
Advocating for Postpartum Health
Thursday, February 3, 2022
6:30-8:00 pm PST
View the Recording Here!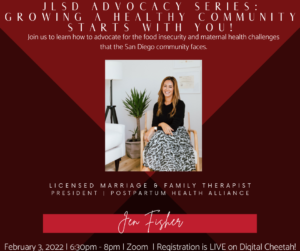 This session will feature Jen Fisher, Licensed Marriage + Family Therapist and President of Postpartum Health Alliance. Jen will be speaking on how to advocate for postpartum health in our community. Prior to entering the mental health field, Jen started her career gaining a background in education and non-profit management. As a program manager, she spent years developing curriculum, leading trainings, and stewarding corporate volunteers and donations.
In 2010, Jen obtained a Master's degree in Marital & Family Therapy from the University of San Diego. She completed most of her clinical training at UCSD Reproductive Mental Health Clinic working alongside physicians, midwives, and psychiatrists to provide a unique collaboration on the screening and treatment of perinatal mood disorders affecting women and their partners during pregnancy and the postpartum period.
Jen is currently in private practice in Point Loma and enjoys supporting couples as they transition into parenthood. She has specialized knowledge in the areas of maternal mental health, attachment & bonding, birth trauma & loss, infertility struggles, and adjusting to parenthood while preserving your marriage. In her free time, you can find Jen spending time at the beach or in the desert with her husband and 3 children.
Advocating for Food Insecurity: A Panel Discussion
Thursday, February 10, 2022
6:30-8:00 pm PST
View the Recording Here!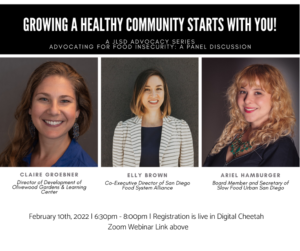 Please join the JLSD Advocacy Committee for the final event of our "Growing a Healthy Community Starts with You" series. This event will feature a panel of speakers from three different organizations within San Diego dedicated to tackling food insecurity. Each of these speakers will tell us more about what their organization does to address food insecurity and how we can advocate for their needs. Tune in on Thursday, February 10th @ 6:30pm to hear more from Elly Brown [Co-Executive Director of San Diego Food System Alliance], Claire Groebner [Director of Development of Olivewood Gardens & Learning Center], and Ariel Hamburger [Board Member and Secretary of Slow Food Urban San Diego].
Learn more about our panelists below!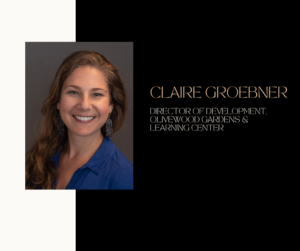 About Claire Groebner: Claire has a double B.A. in Sociology – Social Inequalities and Spanish Literature, is an alumnus of the San Diego Regional Chamber of Commerce's LEAD Advance leadership program, and has been an Olivewood team member for over seven years. She is dedicated to championing health equity, food justice, and anti-racist fundraising and philanthropy. Claire serves on the DEI Committee of Women Give San Diego, participates as a member of Catalyst San Diego in equity and systems-change learning groups, collaborates on a Community-Centric Fundraising San Diego development professionals learning group, and is a member of the national Food Systems Leadership Network through the Wallace Center. Claire oversees and leads Olivewood's fund development and marketing programs, supports and strategizes on program development and evaluation, develops strategic partnerships and community relationships, supports community advocacy and capacity building efforts, and represents Olivewood on the San Diego Food System Alliance Food Vision 2030 Stewardship Committee. She was selected as a 2021 40 Under 40 by San Diego Metro. In her free time, Claire enjoys spending time with her partner Mike and dog Zorro, hiking, dancing, eating good food, traveling, and talking about social justice with friends and family.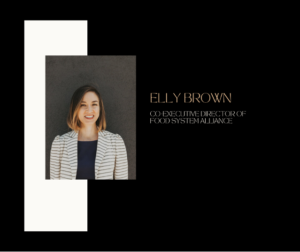 About Elly Brown: As the Co-Executive Director of the San Diego Food System Alliance, Elly oversees the nonprofit administration and resource development domains, ensuring that the Alliance is achieving impact towards its mission. Elly began her journey at the Alliance as a part-time consultant in 2015. Since then, the Alliance has blossomed into an expansive network of over 150 multi-sector organizations and advocates with a $1m in operating budget. Elly is a first generation American, having spent the majority of her life in San Diego and Japan. Elly enjoys the ability to contribute her business and consulting skill set to a cause she loves—food and community. Elly's fondest memories of her childhood involve visiting the countryside of Japan, eating cucumbers and momotaro tomatoes off the vines from her grandfather's farm. After receiving her undergraduate degree at UC Berkeley, Elly began her career in the private sector in financial services and management consulting companies in Japan. Focusing on social entrepreneurship and finance at Duke's MBA program inspired Elly to commit to a career addressing complex societal challenges. Elly is passionate about networked movements and system change, working collaboratively together to create long-lasting changes in our society. Prior to joining the Alliance, Elly worked in nonprofit consulting at Root Cause and as an independent advisor to nonprofits, social enterprises, and foundations on building organizational capacity and maximizing community impact through collaborations.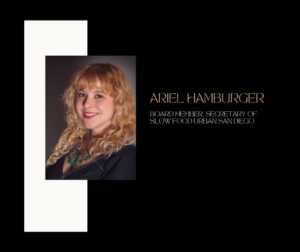 About Ariel Hamburger: Ariel is a Food Equity Specialist with the County of San Diego's Health and Human Services Agency and manages the Live Well Community Market Program where she works to create a more equitable food system for all San Diego residents. She's been instrumental in the County's local food system efforts and helped with the establishment of the Live Well San Diego Food System Initiative and co-chairs the San Diego Food System Alliance's Healthy Food Access Working Group. Ariel sees improvements to the food system and built environment as a proxy of social justice and believes these approaches have the ability to transform communities. Ariel has also worked on cross-border issues through the County's Office of Border Health. She graduated with honors from San Diego State University with a Master's in Public Health and a Master's in Latin American Studies.