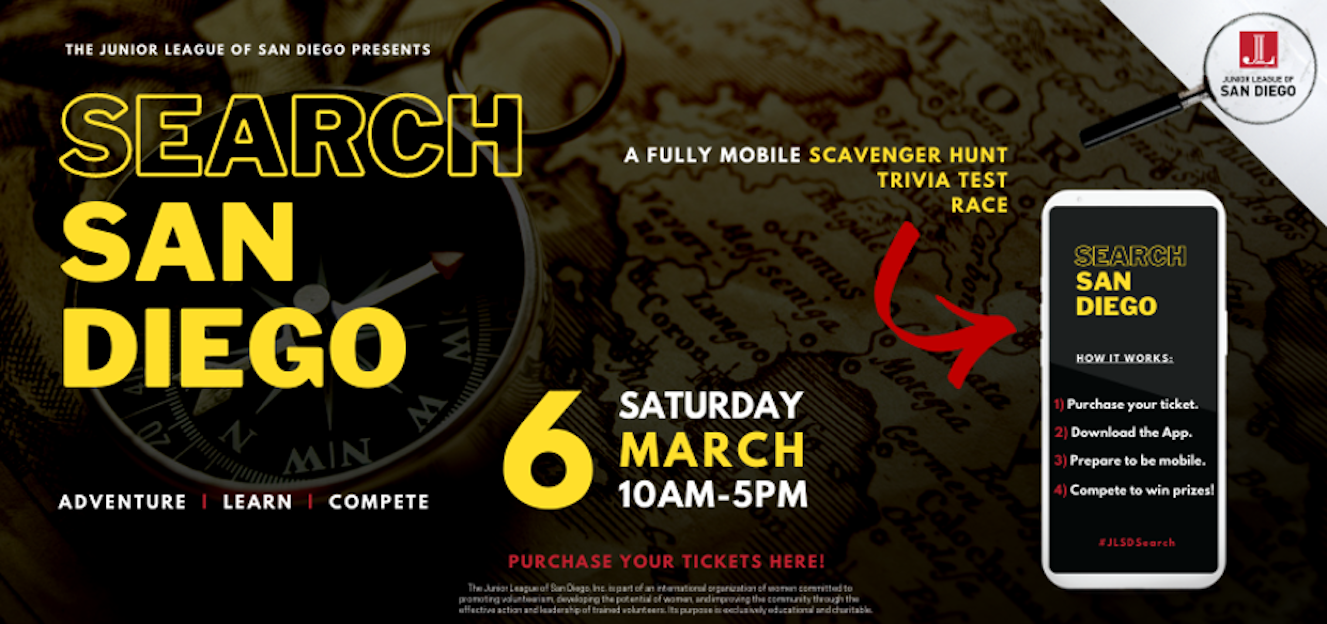 The North County Provisional Group is thrilled to present the JLSD and greater San Diego community with our very own take on a fully mobile scavenger hunt. It will be a full day of adventure, learning, and of course, lots of competition for this San Diego themed event. This family-friendly event is open to members and the broader community, featuring socially distanced challenges that get folks outdoors, thinking creatively to support fundraising efforts of JLSD, AND for a top spot to score some fantastic prizes. We can't wait to see all of you meet the challenge to the finish line!
Can't make March 6th? The scavenger hunt will be available on the EventZee App until Saturday, March 20th, so you can participate at your leisure!  Note: prizes will only be awarded to top teams finishing by 5pm on March 6th.
WHEN: Saturday, March 6, 2021, 10am – 5pm | Play to win prizes
WHERE: Anywhere outside | Prepare to be fully mobile (car and phone)
WHO: All Ages | Family-Friendly
$30/adult, kids free | Thursday, February 11 – Friday, March 5
$50/team of 4, kids free | Monday, March 1 – Friday, March 5
$30 for 5 'Challenge Clues' | Wednesday, February 3 – Friday, March 5
HOW IT WORKS: Download the 'EventZee' App after you
Note: ALL participants are required to sign and return an assumption of risk and waiver of liability agreement before participating in Search San Diego. 
Please download the form HERE.
Forms must be returned to SearchSanDiego2021@gmail.com by 5pm on Friday March 5, 2021.
ADDITIONAL INFO:
Search San Diego is only accessible to play through the 'EventZee App' (free to download). (JLSD is not affiliated with the EventZee App.)
Certain challenges will require a photo or video submission as proof of completion through the EventZee App.
This event is fully mobile, meaning it is played on a mobile device AND will require users to be physically mobile to complete certain challenges. Challenges may require you to drive to a location, walk outside, and take a photo or video.

For example, a clue might lead you to search for the nearest body of water and take a photo in front of it. (pool, beach, lake, pond, etc.) * Hint hint, wink wink, nudge nudge!
Your safety is important to us.
JLSD takes the health and safety of our members and community very seriously. You must follow all applicable safety guidelines while participating in Search San Diego. 
An inherent risk of exposure to injury and to COVID-19 exists in any public place where people are present. COVID-19 is an extremely contagious disease that can lead to severe illness and death. According to the Centers for Disease Control and Prevention, senior citizens and persons with underlying medical conditions are especially vulnerable.
By participating in Search San Diego you voluntarily assume all risks related to injuries, illness and exposure to COVID-19.