Reset, Refocus and Recharge in Twenty Twenty-You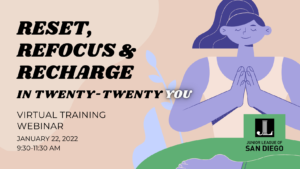 Does your 2022 need a kick start? Are you looking to examine your habits and move into this new year with intention?
Join us on January 22nd to reset, refocus, and recharge in twenty-twenty YOU! This one-day virtual training will nourish our minds and bodies with speakers on mindfulness, intention-setting, and establishing healthy habits.
Date: January 22, 2022
Time: 9:30 am-11:30 am