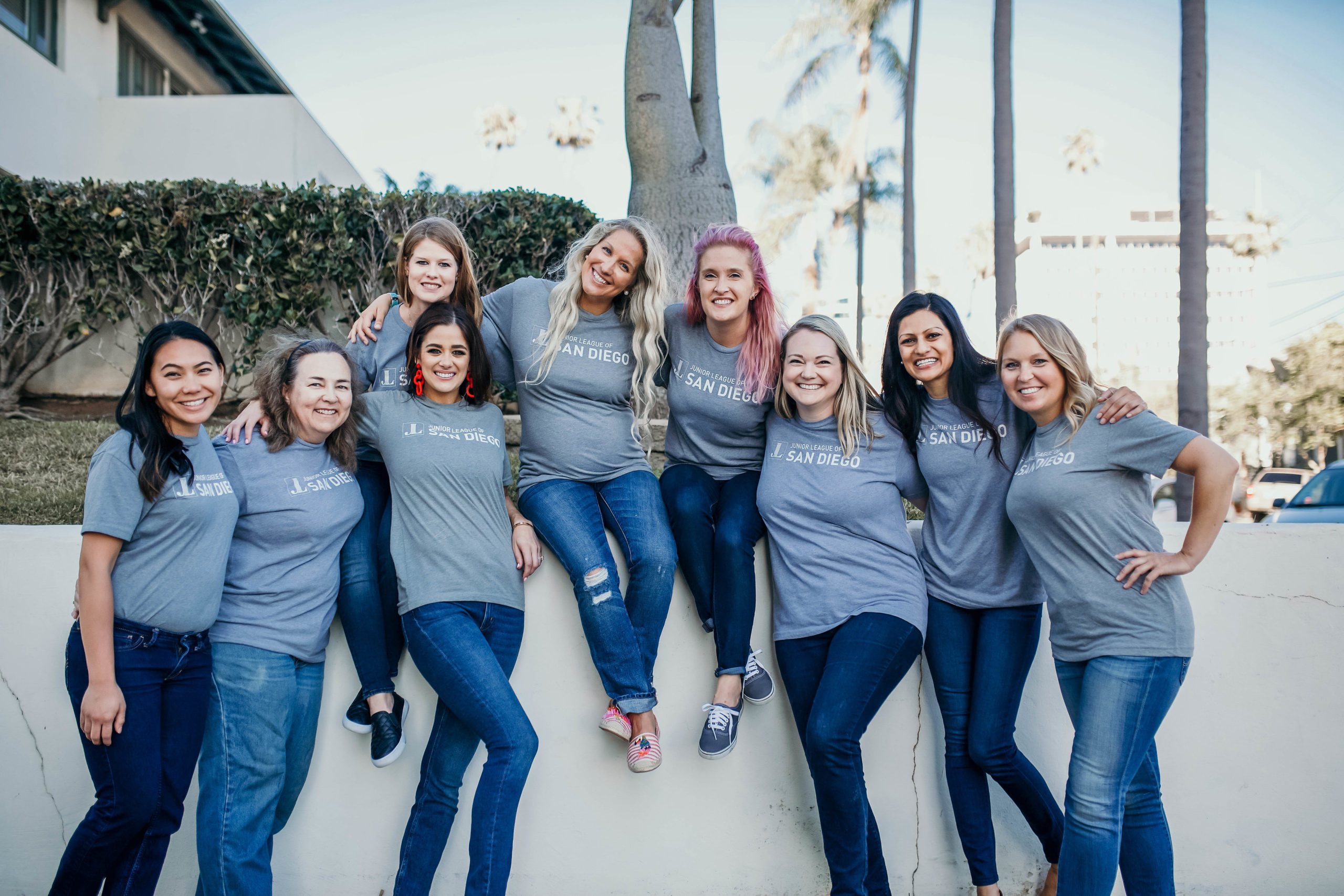 Women interested in joining the Junior League of San Diego's incoming Provisional Class (first year members) should start the application process by clicking HERE.
Deadline to apply for the 2022-2023 league year  has been EXTENDED to August 15, 2022.
Upcoming information sessions:
IN-PERSON information sessions
Saturday, August 13 at 1:00 p.m.
VIRTUAL information session
Wednesday, July 27 at 6:00 p.m.
Thursday, July 28 at 6:00 p.m.
Wednesday, August 10 at 6:00 p.m.
*To reserve a spot to one of the information sessions please email membership@jlsd.org with your name and date of the session you wish to attend.
Application Process
After filling out the interest form, you will receive an email with a link to set up your profile. After setting up a profile in our system, you will be able to fill out a membership application and then register to attend an information session to learn more about joining the Junior League. Attending an information session is required prior to joining. During the information session, you will hear how the Junior League of San Diego makes an impact in our community, comes together even when we are apart all while having fun by staying connected through learning and advancement both in our personal and professional development. We look forward to welcoming you into our community and are here to answer any questions you may have. We look forward to welcoming you to the Junior League of San Diego!
Membership Criteria
Any woman is invited to join who meets the following requirements:
You must be at least 21 years of age by the beginning of your Provisional year to apply (there is no maximum age to join!)
You must reside within San Diego County no later than one week prior to the date of the Provisional Orientation
You must exhibit an interest in the San Diego community and commit to the fulfillment of all requirements and attendance obligations of the Provisional Training Program
Provisional Training Program Overview
The Junior League of San Diego's Provisional Training Program will provide an introduction to all of our focus areas, community outreach projects, and fund development initiatives, as well as the structure and culture of JLSD and Association of Junior Leagues International (AJLI). The curriculum will be a combination of classroom-style learning, experiential training, and social/networking opportunities.
The Provisional year will begin with an orientation in August and will continue through May, at which time Provisional members who have completed all course obligations will become Active members of the Junior League of San Diego for the next league year.
Provisional training meetings will occur monthly, either on a Saturday morning or a Tuesday evening. Some will be held as a large group either at the JLSD house at 210 Maple Street or an offsite community facility or venue while, others will be held in smaller groups in neighborhoods convenient to each team and led by Provisional Mentors.
Frequently Asked Questions about Membership and Your Provisional Year
1.  What does the application process look like?

All a potential Provisional member needs to do is:

Fill out the interest form
Create a profile
Spend 5 minutes completing the application form
Register to attend an information session
Attend an information session
Receive notification of acceptance
Pay dues ($210)  and the Provisional course fee ($85)
2.   Do I need a Sponsor?

No! Other Junior Leagues around the world require a 'sponsor,' or a current member who can vouch for the prospective member, in order to join. JLSD wants women who want to raise their hands to serve the needs of our community without barriers.
3.   What will my Provisional year look like?

The Provisional year is purposefully designed to introduce you to the Junior League of San Diego while providing opportunities to socialize, create new connections, gain access to valuable training, learn about our mission and community impact, and serve with our community partners and programs.
4.   What do the social aspects of JLSD Membership look like?

Provisional classes are divided into smaller groups under the guidance of Active members. The Provisional year combines education and training with socializing, providing you with both formal and informal settings to mix and mingle with your Provisional class as a whole along with Provisional Committee leadership, your small group of other Provisional women, and other Active JLSD members.
5.   Why should I pay a membership fee to volunteer when I can do that on my own?

There are countless reasons to join the JLSD! Regarding our community partners and programs, the JLSD has a reputation in San Diego for providing dedicated, well-trained volunteers which means that many organizations want to partner with us. This gives our members opportunities to serve in capacities they wouldn't necessarily have access to if they were to reach out on their own. Before, during, and after your volunteer shift, you'll make connections with other women passionate about serving — something you may or may not gain volunteering with a single organization. In addition, you can select a new placement within JLSD each year, saving you the time and hassle of searching for a different organization or going through a lengthy background check should you want to try something new.

We also provide training to our members for little to no cost that the general public would need to spend hundreds of dollars to gain access to, while providing opportunities for like-minded women to meet and often become friends. These training sessions allow our members to improve valuable skills, such as leading a team, public speaking, and fundraising, that they can use for both personal and career growth. And all internal JLSD leadership positions are elected annually, which empowers even newly Active members to apply these skills and make an impact from day one.
6.   What is the age criteria for membership in the Junior League of San Diego?

In order to join a Provisional class, you must be at least 21 years of age by June 30 of the league year in which you are completing your provisional program. The JLSD league year runs from July 1 to June 30.
7.   What types of women make up the typical Provisional class?

While our members are diverse in age, background, skill set, race, ethnicity, religion, political affiliation, and vocation, we focus on recruiting women who share the desire to help carry out our mission while becoming a trained volunteer.
8.   What are my requirements during my Provisional Year?

Provisionals attend monthly trainings, participate in the planning and execution of a fundraising event, organize a community project, complete a volunteer shift with one of our community partners, attend at least 3 of 6 General Membership Meetings and our end of year May Voting Meeting (with all other Active Members). It's busy but a fun year filled with many exciting adventures!