---
Re-investing in JLSD Headquarters  
Welcome!  In 2016, the Junior League of San Diego Board of Directors – chartered an Ad-hoc Committee to undertake a multi-year restoration project  Our headquarters is affectionately known by League Members as 210 Maple.
Please come back soon to hear more about our plans for this project, and how you can support our efforts! The committee meets regularly, and has issued a league-wide call to action to collaborate on the planning and success criteria of this project.  We are soliciting feedback from Junior League of San Diego stakeholders for recommendations on features, organizations offering historical restoration grants, contractors, and others who can support our project, or wish to be involved in any way.
Please contact the Restoration Committee at 210maple@jlsd.org
In the meantime, we invite you to learn more about our historic headquarters and its vibrant history, and the great work of the leaders who have walked through its doors.
In community spirit,
Joni Flaherty & Emily Green
210 Maple Street Restoration Ad Hoc Co-Chairs
---
JLSD Headquarters Restoration Efforts Make The Wegeforth House a San Diego Historical Site
Upon purchase of 210 from the Estate of Mrs. Adele Rose Palmer in 1982, Junior League Members went to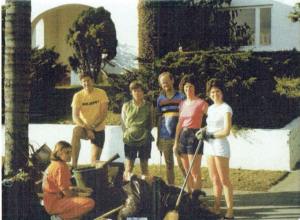 work restoring the home, which had fallen into disrepair.  League members were also successful in obtaining historical designation for the home working through the San Diego Historical Resources Board.
Many of the Junior League members active in the purchase and first restoration of 210 Maple continue to be connected with our League as Sustaining Members and continue to hold a great sense of pride and accomplishment for the project. Through their time and efforts, they secured a valuable asset for the League, investing in critically needed meeting space for future generations of  Junior League of San Diego members who continue our mission of developing women leaders in the San Diego Community for decades to come.
---
The turn of the Millennium Brings a Feature in San Diego Home & Garden Magazine 
In 2000, JLSD initiated a second restoration project to improve 210 Maple, as part of the home being featured as San Diego Home & Garden magazine's "showcase home." During that time, several rooms of the home were decorated for the magazine feature, each by a different designer. While many of the furnishings used for the feature were on loan, the project's efforts can still be seen today through the window treatments, wall frescoes, and other details that remain unchanged.