Community Improvement Project (CIP) for Collaborative Community Service Projects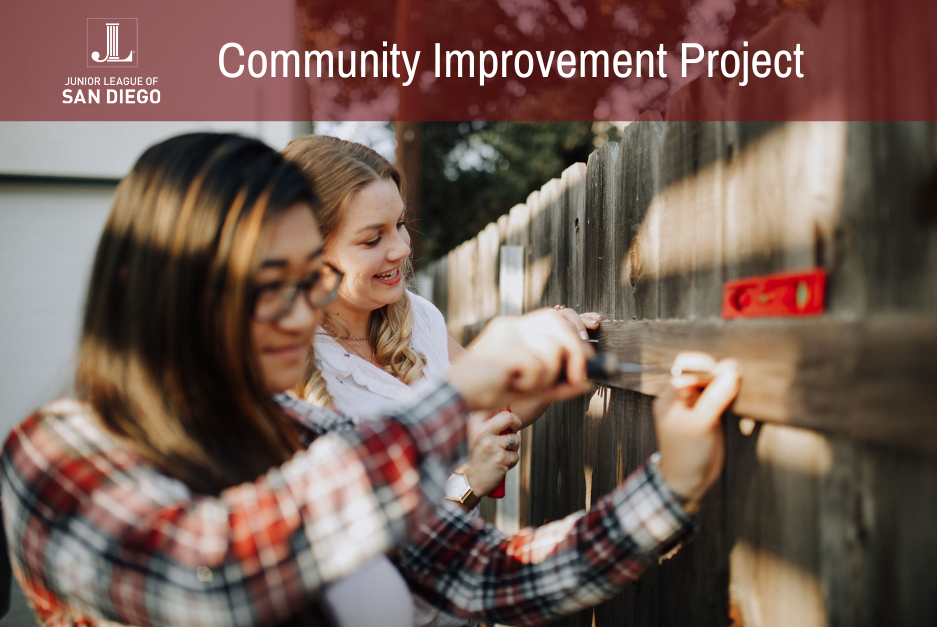 Overview
The Junior League of San Diego is an organization that promotes voluntarism, develops the potential of women, and improves communities through the effective action of over 300 actively trained volunteers. The League's current focus area is food insecurity.
The purpose of the Junior League of San Diego (JLSD) Community Improvement Project (CIP) for Collaborative Community Service Projects is to assist like-minded community partners in their efforts to improve lives in San Diego County. JLSD will fund, develop, organize, and provide volunteers for up to 2 projects, to be completed within March15 – May 15, 2023. JLSD has designated up to $2,000 to be used for up to 2 projects.
This CIP does not provide grant money nor support fundraising opportunities or sponsorships to the community partners. Deadline for CIP Submissions: February 15th, 2023.
JLSD invites proposals to be submitted via this Google Form.
Questions can be submitted to the following email: community@jlsd.org.
Project Award Criteria
The following criteria will be highly considered in the award process: 
Organizations with missions that align to the issue of Food Insecurity.

Organizations whose projects have strong alignment to the issue of Food Insecurity.

Organizations whose projects have a significant impact on the issue of Food Insecurity in San Diego.
Review of Submissions
Submissions will be reviewed with the Strategic Community Partnership Committee Members, the Executive Management Team, and the Board of Directors. A Final review will take place with the General Membership of JLSD. 
JLSD will contact applicants if there are questions or additional information is required. Incomplete applications will not be considered. 
JLSD will acknowledge the awarded project(s) via email on March 15, 2023.
Timeline
December 15, 2022: Press release announced. JLSD webpage launched. All details, including application for CIP open for submissions
December 15, 2022 – February 15, 2023: submissions accepted, questions and answers provided
February 15, 2023: Application closes at 12:00pm PST
February 15, 2023 – March 15, 2023: Three (3) rounds of review completed by JLSD, to include (but not limited to):

Round 1 review by Strategic Community Partnership CIP Committee
Round 2 review by JLSD's Executive Management Team and General Membership
Round 3 review by JLSD's Board

March 15, 2023: Winner(s) announced by email
March 15, 2023 – May 15, 2023: Project(s) executed
June 30, 2023: Project(s) impact published
Application
Enquiry
Email: community@jlsd.org