Transition Age Foster Youth (TAY) Mentors 
TAY Mentorship Program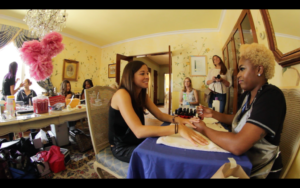 In order to assist and empower San Diego's transition age foster youth the Junior League of San Diego sponsors and facilitates a formal one-to-one mentoring program, matching highly committed JLSD members (Mentors) with Transition Aged Foster Youth (Mentees) – providing relevant independent living skills workshops, assistance in obtaining a job, and lots of social opportunities!
Group events are also held with all Mentor/Mentee teams where individual connections and relationships are formed between Mentors and Mentees to assist TAY with their transition to independent adult life.
The Mentorship Program is offered free of charge to San Diego TAY and provides:
Comprehensive Mentor/Mentee matching based on common interests and career goals
Commitment of two one-on-one meetings per month, weekly communication, and additional Mentor/Mentee group activities
Fun, interactive independent living skills workshops on topics like budgeting, nutrition, budget-conscious cooking, and modern etiquette for the 21st-century young adult
Job-hunting/resume-building/career-planning workshops culminating in a salon "Day of Beauty" to learn styling for success
Reasonable transportation for the Mentee as-needed for appointments, grocery shopping, and other important meetings
Are you a TAY interested in being matched with a JLSD Mentor?
Selection of Mentees is at the sole descretion of JLSD and we may remove an individual from the Mentoring Program at any time with or without cause.  
No late applications will be accepted for any reason and all applications must be complete to be accepted.
having fun!