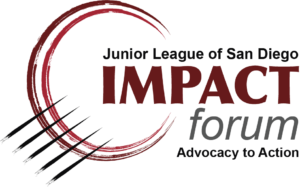 The Junior League of San Diego's annual informative Impact Forum on Human Trafficking: Advocacy to Action.
In San Diego, thousands of young girls are transported into our area across the border, via our airport and also in events that bring large crowds.
The Impact Forum is specifically subtitled "Advocacy to Action" so as to articulate that we are here actively, not passively.
Our event is intended to educate participants and have a unique opportunity to learn more about this issue and help to remediate it by Knowing the Signs. Our partners and participants will join JLSD to learn about the treacherous crime of human trafficking and its impact on San Diego. Attendees will hear from speakers, survivors and experts on how to see and identify and report trafficking.
This is a community event, open to the public.
Highlights from previous years:
2016
2015