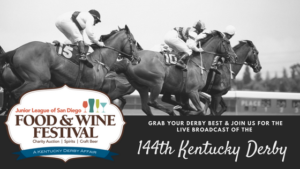 Calling all Fillies and Stallions!
18th Annual Food & Wine Festival
Saturday, May 5, 2018
12:00 pm – 5:00 pm
La Jolla Cove
The Junior League of San Diego's (JLSD) annual Food & Wine Festival is JLSD's biggest fundraising event of the year, and is a must-attend event for San Diego.  The 2018 JLSD Food & Wine Festival will serve more than 1,200 guests at the La Jolla Cove on the afternoon of May 5, 2018.  Guests will enjoy the ultimate outdoor foodie experience featuring San Diego's best restaurants and beverage purveyors while cheering on their favorite horse during a live viewing of the Kentucky Derby. This must-attend event raises funds critical for JLSD's mission-based programs that support transition-aged foster youth and train JLSD members to become leaders in the San Diego community.